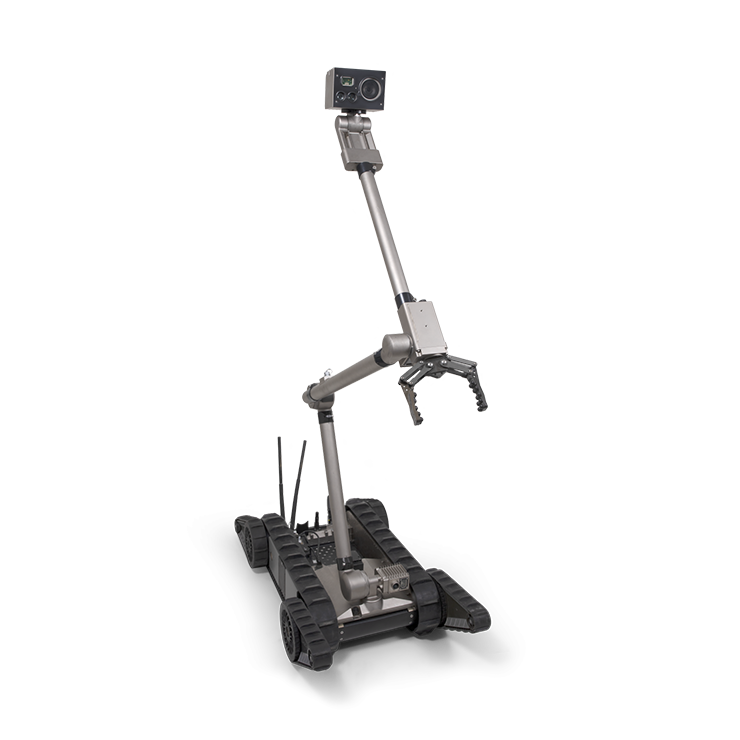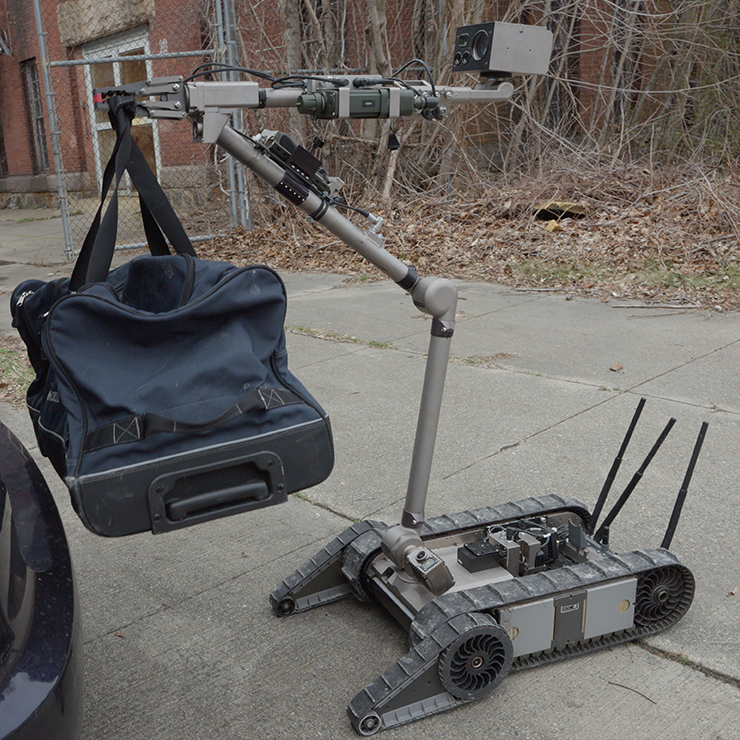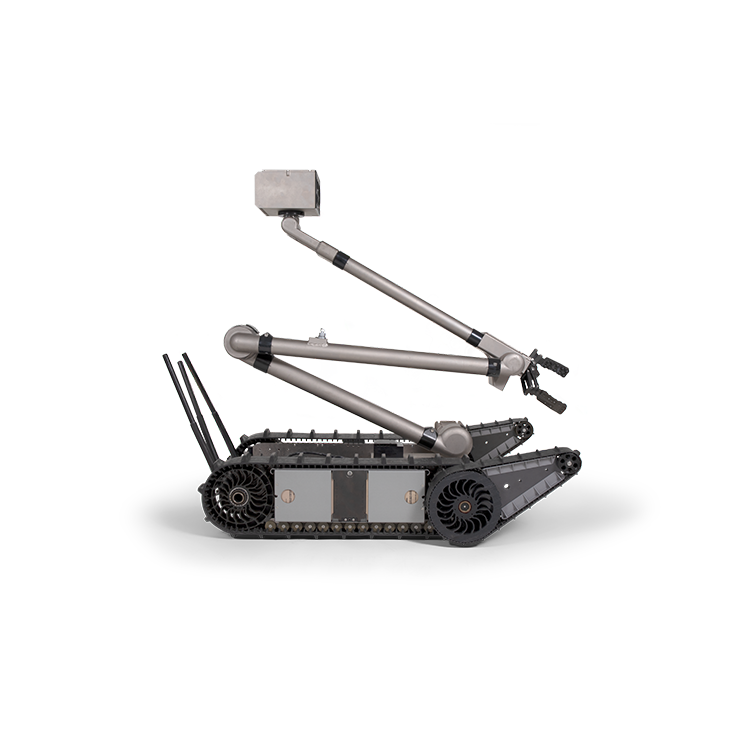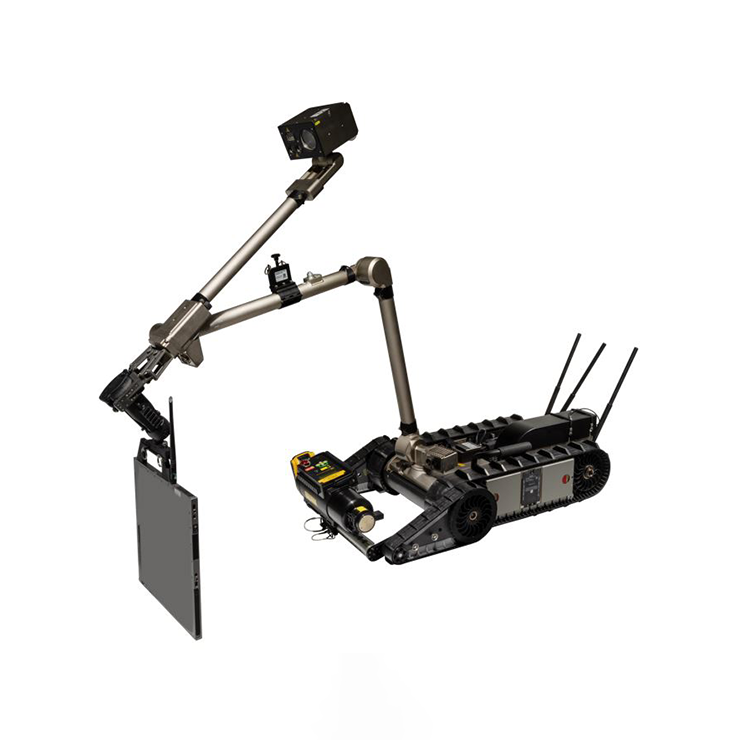 Product description
Teledyne FLIR PACKBOT® 525 Remote manipulation vehicle
The PackBot® 525 is the latest development of the already field-proven predecessor model and impresses with state-of-the-art HD cameras, improved lighting, optional in-situ charging (charging the batteries while installed) and other upgrades. The addition of a laser rangefinder, improved accessory ports, and more attachment points for additional accessories make this vehicle very capable and allow the user to conduct disarming, surveillance, and reconnaissance operations from a safe distance.
The PackBot® 525 is ready to use in less than 2 minutes, can be carried by one person and its deployment can be quickly realized from any platform. The robot lifts up to 20 kg (close-in) and can be easily stored in the trunk of a car.
Robust and versatile
This PackBot® manipulator is equipped with a robust chassis. It gives it high maneuverability on almost any surface. Stairs and other obstacles are easily overcome thanks to its flipper system.
Technical data
26.3 kg (without batteries)
approx. 89 cm (chassis, flipper completely extended)
52.1 cm (chassis, with mounted flippers)
approx. 20 kg (before chassis), approx. 5 kg (extended)
up to four BB-2590 batteries
Three HD color cameras with LED illumination on head and turret and IR illumination on head and gripper
IP 67 (without fiber optic coil unit)
up to 4 hrs. with 2 batteries, up to 8 hrs. with 4 batteries
Stair climbing turning circle
0 cm, wood: 43°, carpet: 38°, metal: 40° (with 4.54 kg accessories)
New Feautures
State-of-the-art HD cameras
Additional accessory connections
4x camera view
Target camera
Laser range finder
Improved lighting
Control via tablet (touch screen / gamepad)
Product benefits
Cameras, lighting, laser rangefinder
HD cameras and improved lighting provide a clearer image in all environments. The new laser rangefinder displays the distance to the target.
Optional in-situ charging
Keep the batteries fully charged and monitor the charge level while the batteries remain in the robot.
Accessory port extensions
Improvements to the digital architecture make integration and placement of sensors and payloads easier than ever.
Possible usage
This PackBot® manipulator is equipped with a robust chassis that gives it high maneuverability on almost any surface. Likewise, it can overcome stairs and other obstacles thanks to its pinball system. Users also appreciate its innovative manipulator system: the head, gripper and shoulder can be comprehensively rotated or tilted. With the intuitive, robust tablet control, the operator can choose from the full range of networked robots. Thanks to the MPU5 radio powered by Wave Relay® MANET, robots can penetrate deeper into complex structures and be more mobile than ever before.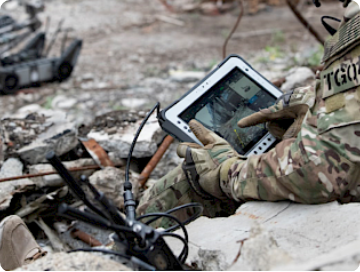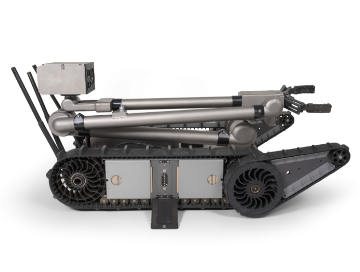 Operating unit
The control unit of the PackBot® 525 is a touchscreen-based tablet controller (uPoint Multi-Robot Controller) with MPU5 radio/data solution. It allows direct access to the vehicle, its data (sensor values, etc.) and maps to locate the GPS position.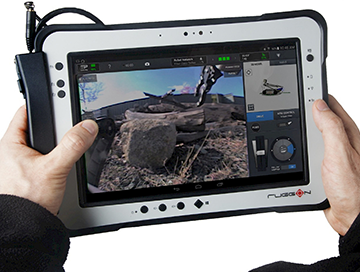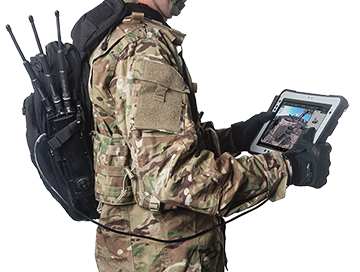 MPU5 WAVE RELAY® MANET
It can also switch between multiple robotic systems (FirstLook®, KobraTM and PackBot®) and generate video for evidence collection. The MPU5 allows independent networking with other MPU5 devices that have the same configuration.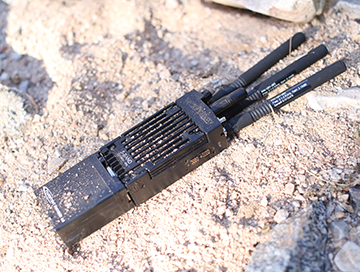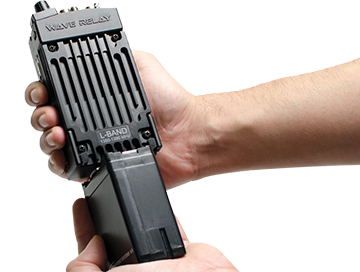 Accessories
Another strength of the UGV is its high modularity. Its platform allows the integration of different accessories, which can be selected and quickly mounted according to the application. The following accessories are currently available:
X-ray system with mounting accessories
Flat panel systems (manufacturer: Logos Imaging):
Mounting on the gripper by means of an X-ray panel holder
X-ray generators (manufacturer: Golden Engineering):
Mounting on the chassis
Note: The X-ray system is triggered and the X-ray images are transmitted via a separate control unit.
ELP-HAL-ROV (ELP development)
Hook and line sets for increasing the distance between object and PackBot®. Optionally available with self-closing spring hook, alligator clip or heavy-duty hook and rope.
Hazmat sensors with mounting accessories
For detection of warfare agents and toxic gases, multiple gas detection and/or radiation detection
Disruptors with mounting accessories
PeraDis (ELP development):
Electromechanical and recoilless water disruptor
Mounting on the PackBot® arm
RE 70 (manufacturer: Chemring):
Shooting of solid or fragmenting projectiles as well as liquids, mounting on the arm
Manipulation tools (ELP development)
Disc breaker, mechanical cable cutter, manipulation hook etc.
In situ charging
Charging of the batteries and monitoring of the state of charge in installed condition
Target camera
Enables absolute target point control through prior target calibration
FLIR Tau Thermal Camera
Long wave infrared (LWIR) thermal imaging camera, histogram equalization automatically adjusts image contrast
Active 200 m fiber optic spooler
For safe, interference-free control via fiberoptic cable(optical fiber)
This product is available from ELP GmbH in the following countries:
Germany, Austria, Switzerland, Belgium, Luxembourg, Netherlands
Your contact person is there for you
Do you have any questions, requests or suggestions?
Jürgen Kleinert
Beratung Anwendungstechnik EOD/IEDD