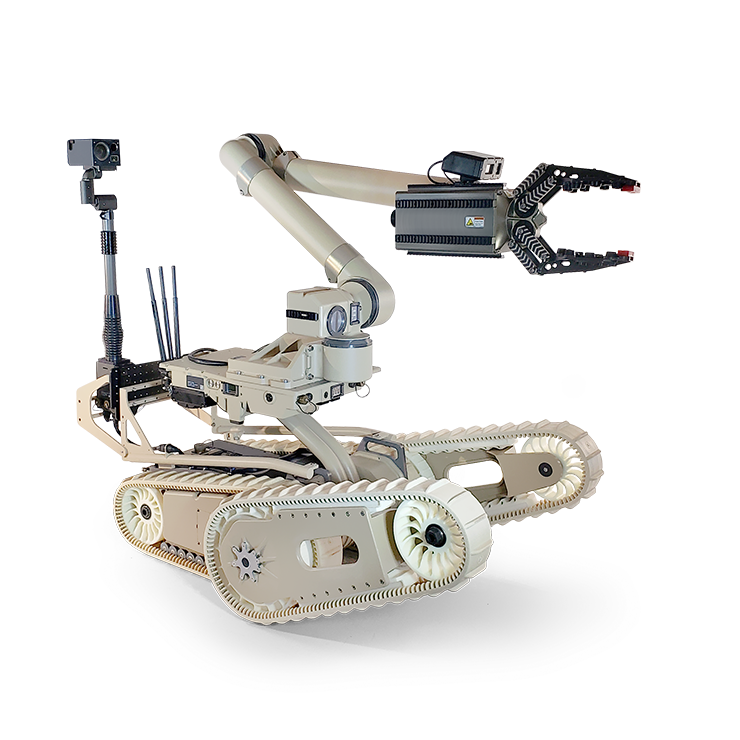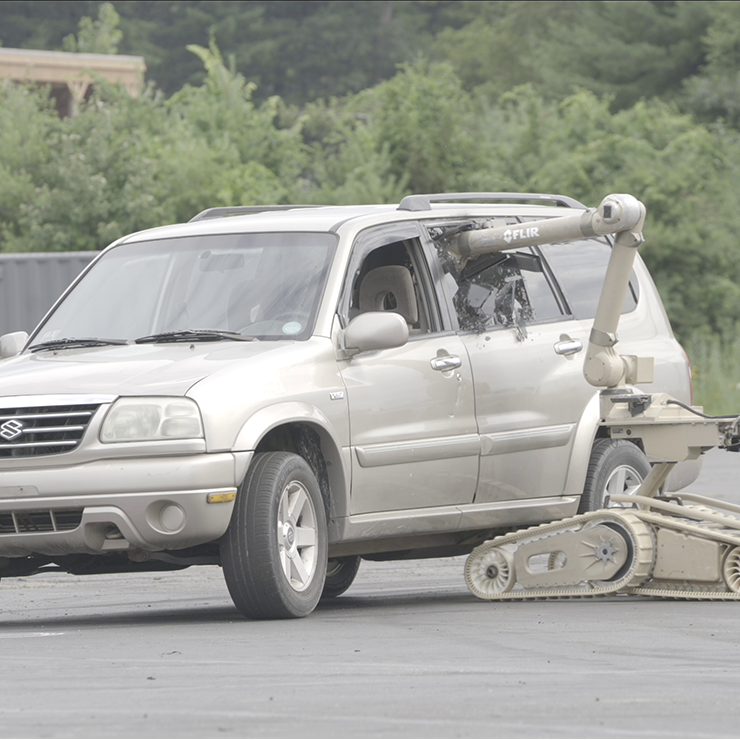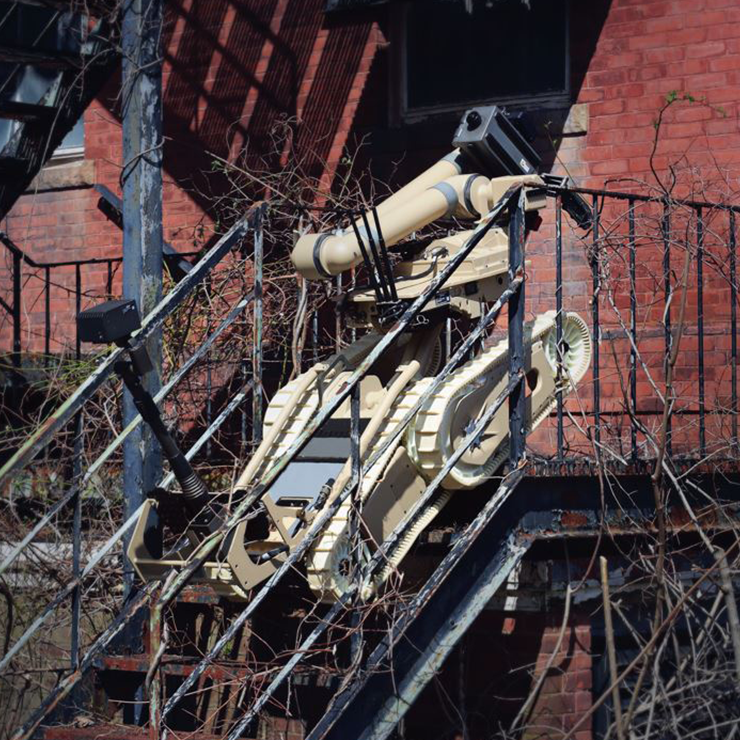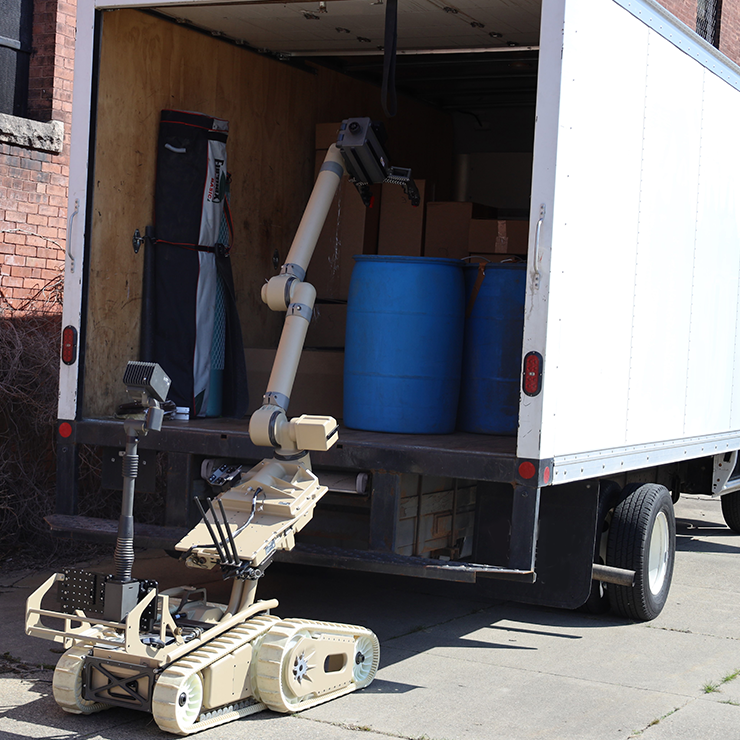 Product description
Teledyne FLIR 725 Kobra™ Remote manipulation vehicle
The 725 Kobra is Teledyne FLIR's most powerful remote manipulation vehicle. In addition to its high lifting and gripping power, it is particularly characterized by its robust design, high maneuverability and off-road capability, as well as versatility. This powerful UGV is available to users as a flexibly configurable platform to meet various application scenarios.
Technical data
12 x Lithium-Ion, Type: BB-2590
stepless up to 12.9 km/h (maximum)
150.0 kg at close range, 45.0 kg at max. Stretch
Product benefits
Strong manipulator system
The gripper of the double-jointed manipulator arm has a remarkable gripping force and reach. The gripper of the 725 Kobra™ works in parallel and thus enables safe and even as well as careful gripping. The opening width of 20 cm allows users to easily pick up larger objects. Three state-of-the-art HD cameras (tower, mast, grapple) support the execution of manipulation work. Two wide-angle platform cameras (front/rear) ensure unerring navigation.
Fast, maneuverable and resilient
The 725 Cobra™ has high maneuverability even in rough terrain and can be used in all weather conditions. The vehicle reaches a speed of up to 12.9 km/h and is fully maneuverable even with a large accessory payload - even stairs with an incline can be easily negotiated when loaded.
Operating unit
The control unit of the 725 Kobra™ is a robust touchscreen-based tablet controller (uPoint Multi-Robot Controller) with MPU5 radio/data solution. It allows direct access to the vehicle, its data (sensor values, etc.) and maps to locate the GPS position.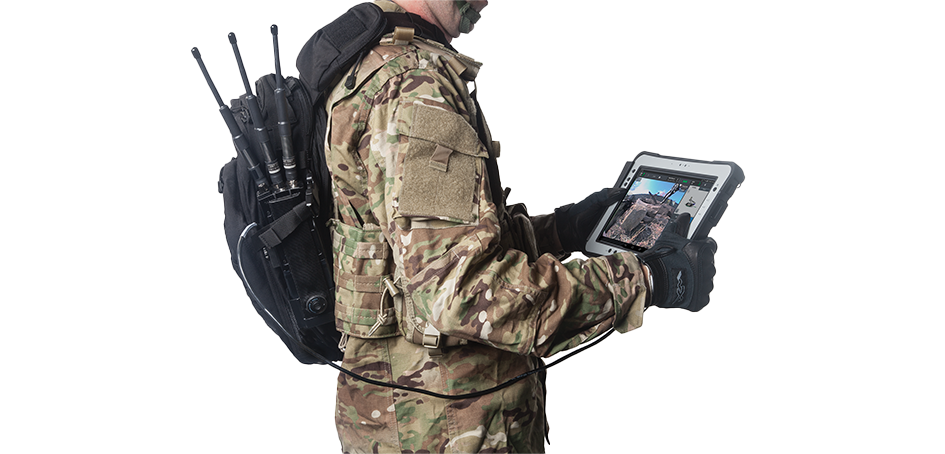 MPU5 Wave Relay® MANET
It can also switch between multiple robotic systems (FirstLook®, Kobra™; and PackBot®) and generate video for evidence collection. The MPU5 allows independent networking with other MPU5 devices that have the same configuration.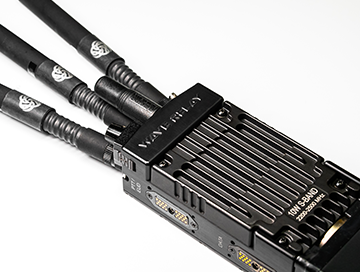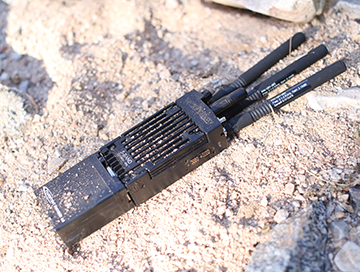 Accessories
Thanks to its advanced system architecture and robust design, the 725 Kobra™ supports the integration of numerous components to provide users with flexibility for different deployment scenarios. The following accessories are currently available:
Hazmat sensors with mounting accessories
For detection of warfare agents and poisonous gases, multiple gas detection and/or radiation detection
Disruptors with mounting accessories
RE 70 (manufacturer: Chemring):
Shooting of solid or fragmenting projectiles as well as liquids, mounting on the gripper
Shotgun Benelli:
Four release channels available for safe remote release via the double-jointed arm
Manipulation tools (ELP development)
Disc breaker, mechanical cable cutter, manipulation hook etc.
Precision gripper (ELP development)
For secure gripping of heavy objects or for tearing open bags and similar objects
Active 200 m fiber optic spooler
For safe, interference-free control via fiber optic cable (optical fiber)
This product is available from ELP GmbH in the following countries:
Germany, Austria, Switzerland, Belgium, Luxembourg, Netherlands
Your contact person is there for you
Do you have any questions, requests or suggestions?
Jürgen Kleinert
Beratung Anwendungstechnik EOD/IEDD