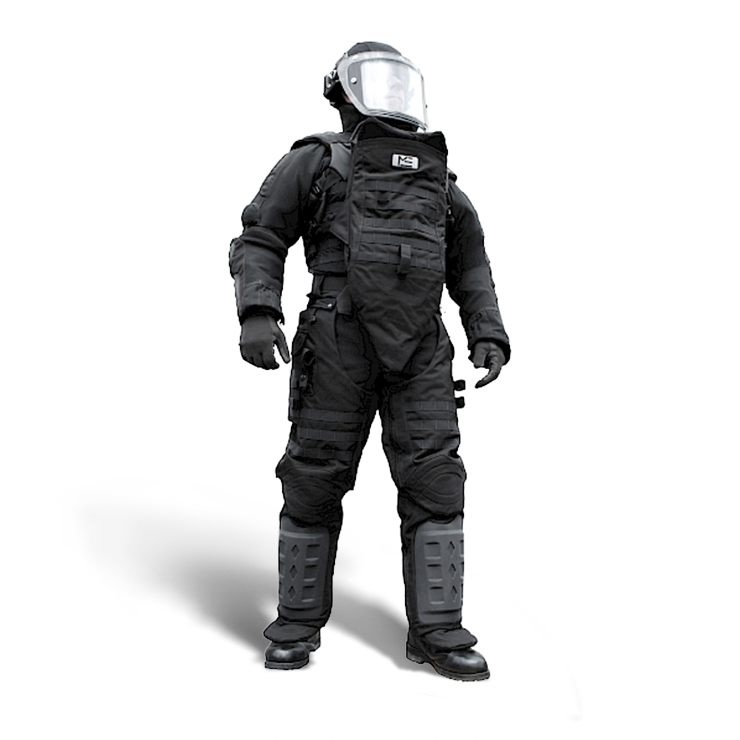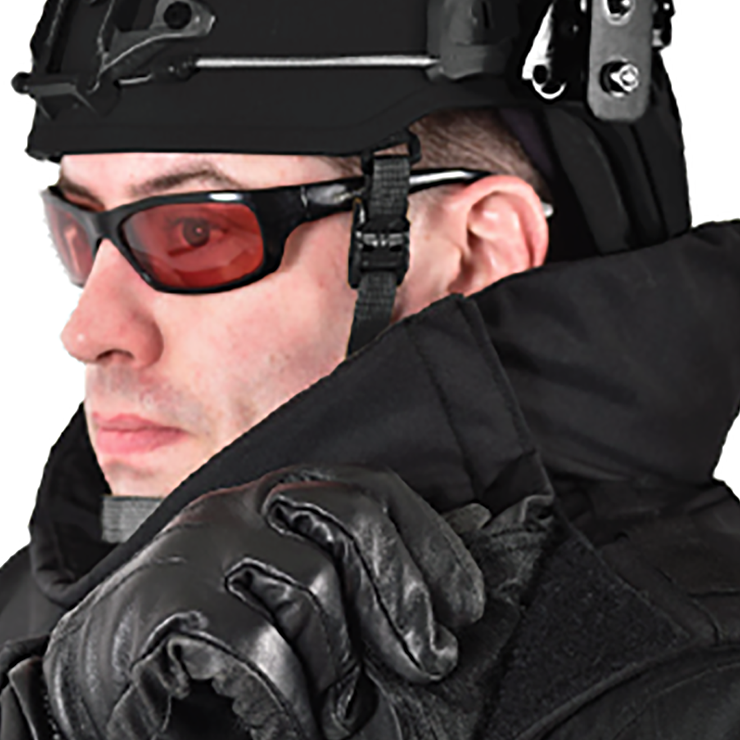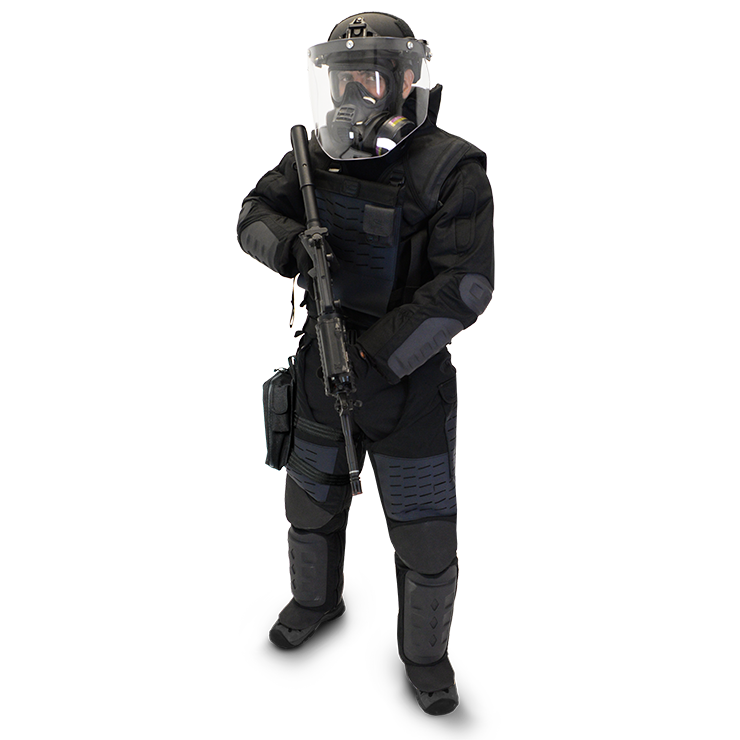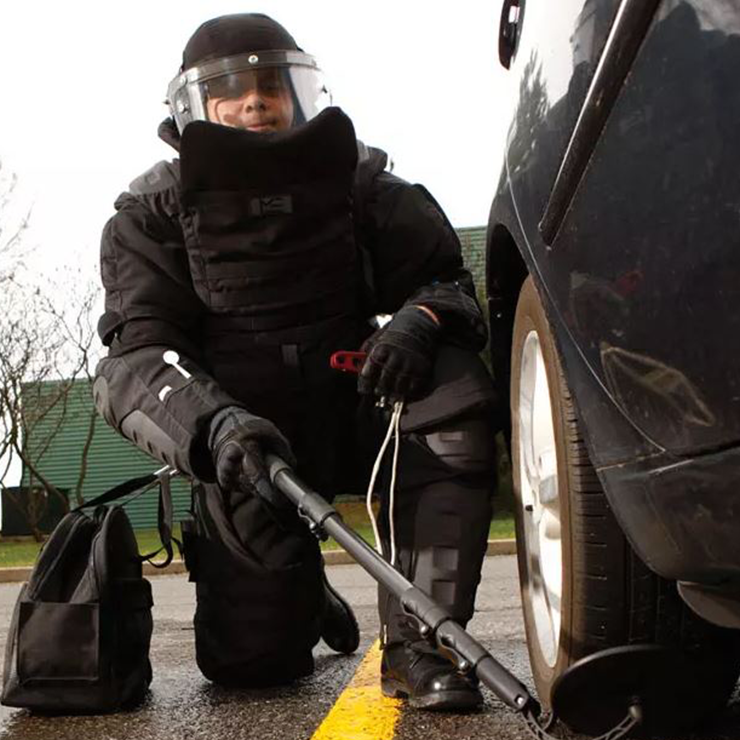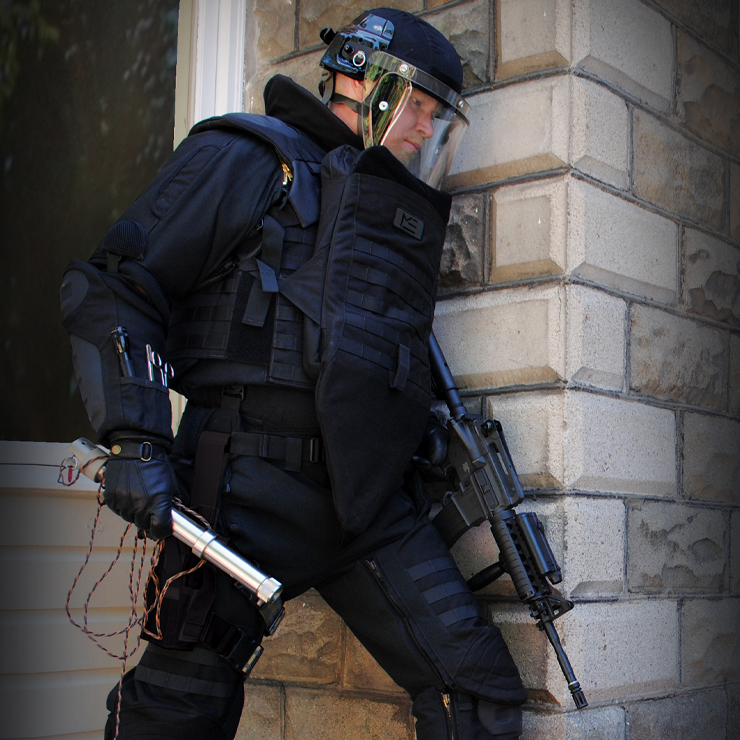 Product description
Blast and fragment protection suit TAC® 6E
In some operations, users cannot work in a heavy bomb suit and still require ballistic protection. Med-Eng's TAC® 6E tactical flak suit is designed specifically for these scenarios and represents the best possible compromise between protection and freedom of movement. Due to its modular concept, the TAC® 6E is extremely flexible and can be individually adapted to the respective situation. The individual components have been designed to meet the highest standards of protection as well as ergonomics, while minimizing physical strain. Depending on the mission, individual configurations of the individual components can be made.
Individual components
Shoulder protector
Cummerbund/Trousers
Ballistic shorts
Hip and shin protectors
One-piece and modular sleeve
EOD plate insert
Minecraft plate insert
Helmet
Visor
Product benefits
High mobility
The ergonomic design of the TAC® 6E gives users a high degree of freedom of movement. Running, climbing and bending is possible without problems in this suit.
High level of protection
Excellent protection against detonation overpressure, fragmentation, acceleration (deceleration), heat and flame.
Configurability
Users can add or remove modular protection components, depending on the deployment scenario.
Ideal fit
Components are available in numerous sizes for an ergonomic fit.
TAC visors
In addition to the TAC® we offer TAC visors with different protection classes according to the V-50 standard. The protection value and weight vary depending on the model, but all visors provide a high level of protection against fragmentation effects and occurring shock waves after detonations. Depending on the equipment, the TAC visors can be mounted on the PASGT series and ACH series tactical operation helmets without tools. This is made possible via a locking pin to lock the visor in open and closed position. A special coating protects against fogging and scratching.
TAC-550: offers splinter protection up to 550 m/s
TAC-450: provides shatter protection above 450 m/s
TAC-250: offers splinter protection up to 250 m/s
TAC-250-BA: provides splinter protection up to 250 m/s and can be worn with a respirator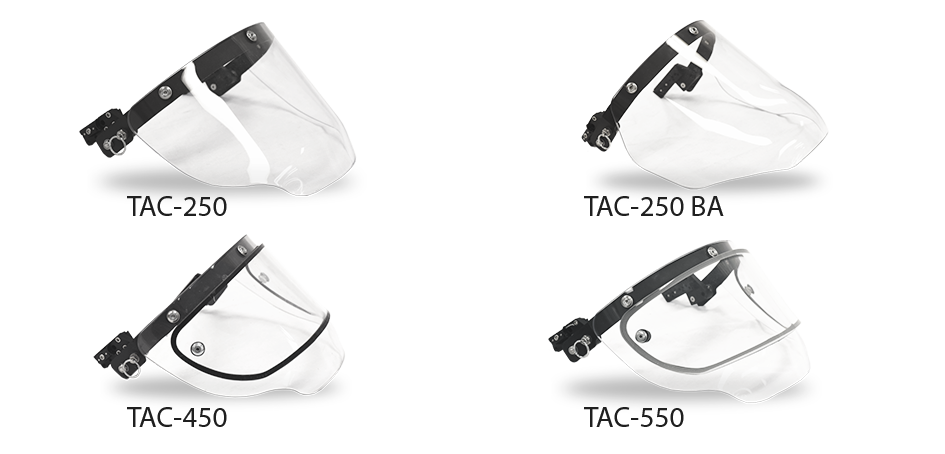 TAC vest
The TAC vest was developed to provide users in tactical operations with the highest possible level of splinter protection. This, determined by the V50 method (17 gr.), is 580 m/s. The protection value can be additionally increased by inserting slide-in plates in the pockets in the side, chest and back areas. Putting on and taking off is possible without assistance due to an advantageous positioning of the zipper in the middle of the front. Adjustable VELCRO® hook-and-loop closures provide a better fit. The TAC vest also features extraction handles on the back of the shoulder and a "push-to-talk" radio attachment on the shoulder.
The vest is available in four sizes: small, medium, large and extra large. Each size is adjustable to fit everyone within the size range exactly.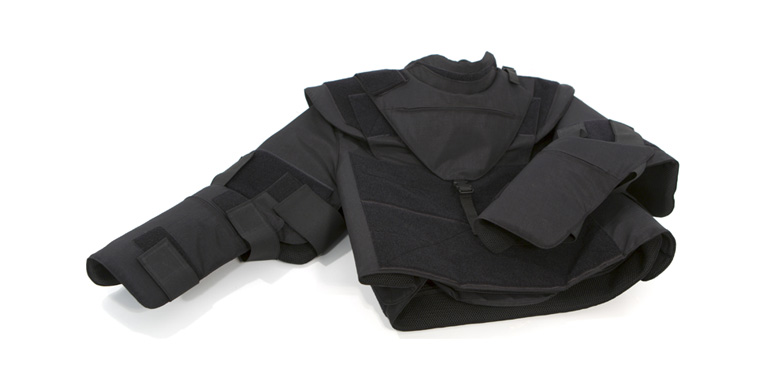 This product is available from ELP GmbH in the following countries:
Germany, Austria, Luxembourg
Your contact person is there for you
Do you have any questions, requests or suggestions?
Jörg Marxen
Beratung Anwendungstechnik EOD/IEDD