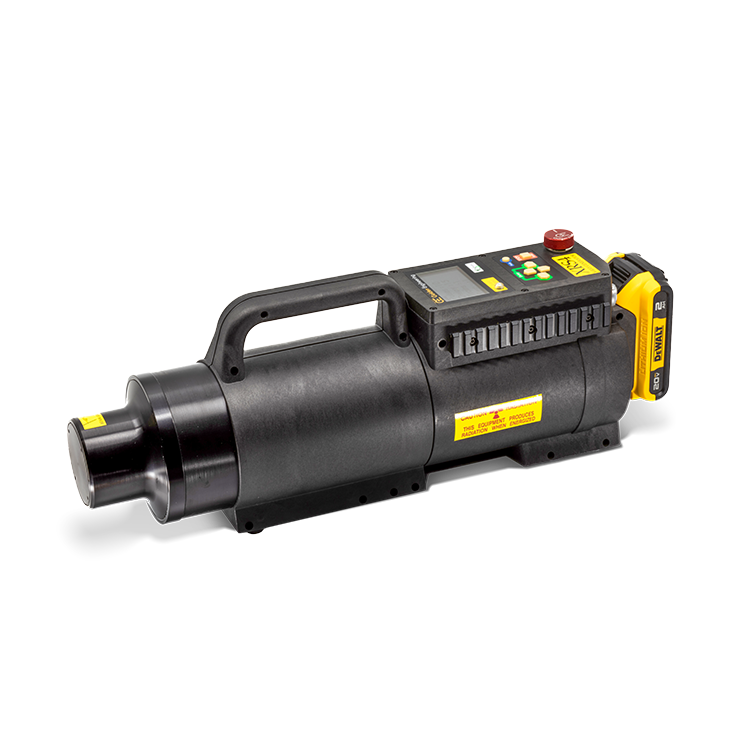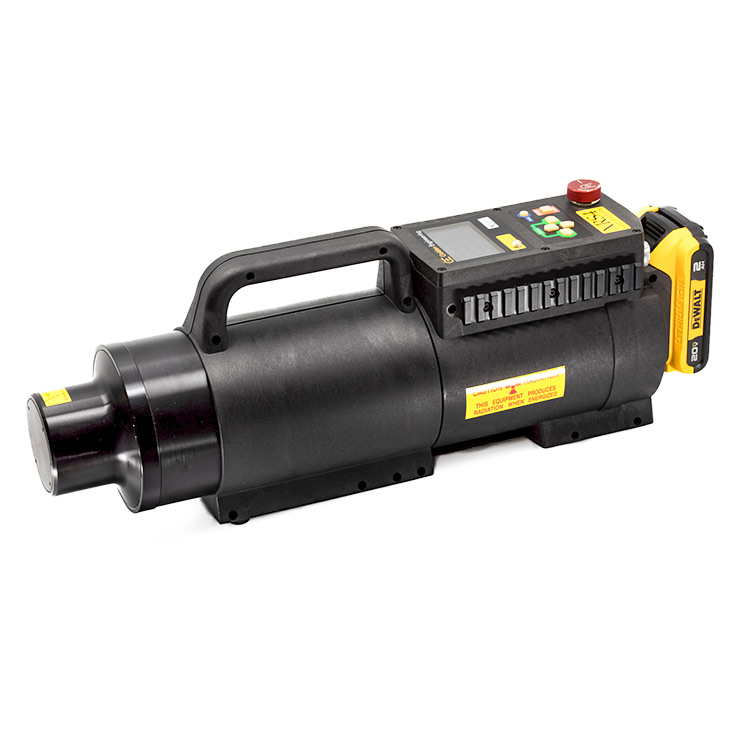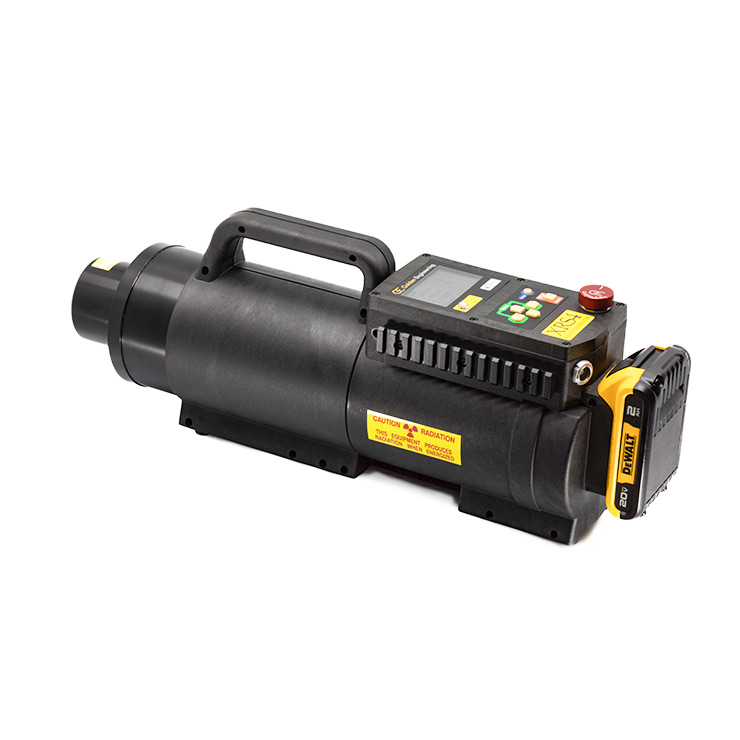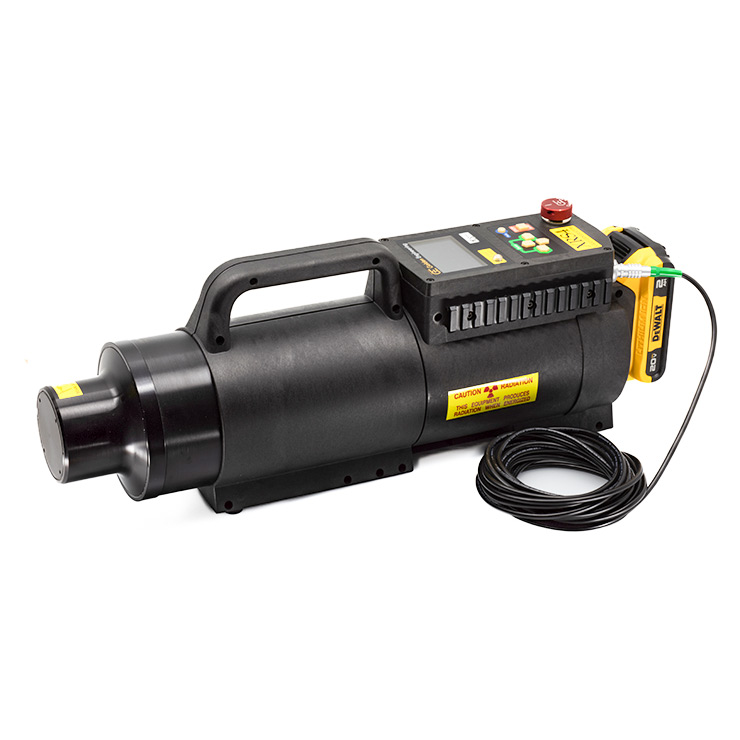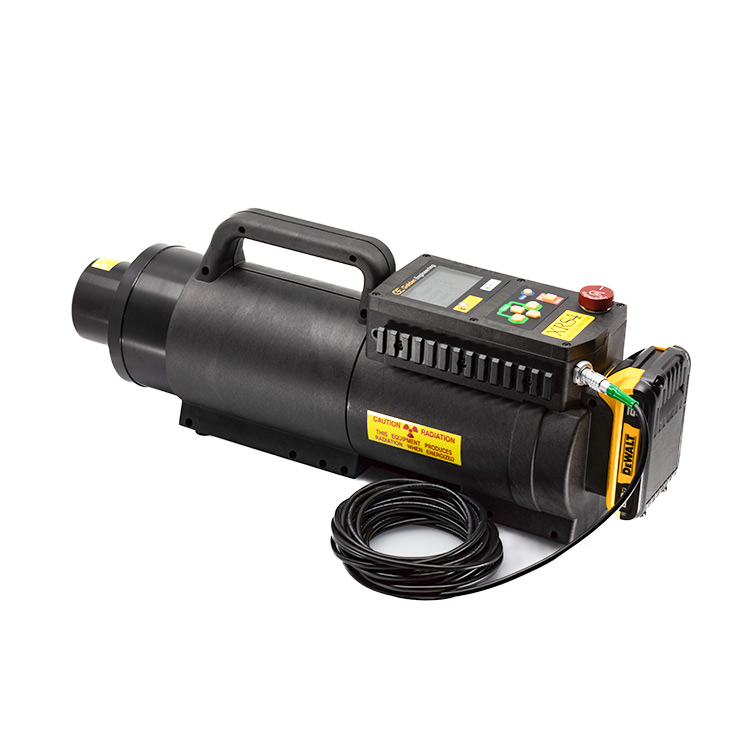 Product description
Golden Engineering XRS4 Gen.4
The updated version of the XRS4 is also in Generation 4 the most powerful battery-powered X-ray pulse generator from Golden Engineering. It has a photon energy of 370 kVp and can penetrate very dense materials with high wall thicknesses (e.g. 5 cm steel). By generating pulsed X-rays, this generator has a low radiation exposure. At 8.3 kg, the lightweight and handy model with its robust aluminum housing ensures safe handling, especially in mobile outdoor applications. The X-ray generators are ready for immediate use and, thanks to their Li-ion batteries, can be operated independently of the mains supply for hours.
With the adaptation of the XRS4 to the Gen.4 version, the following new features are available:
The larger, daylight-readable display with color-adjustable backlighting provides better information display and significantly increases readability
A second tripod screw ensures twist-proof mounting on the tripod
Easier accessibility to the communication/data port
A help button in the operator menu provides the user with explanations of the menu sub-items and their operation at any time
Technical data
48.92 cm x 17.91 cm x 12.19 cm (with battery)
DeWalt® 18 V Li-Ion battery pack
Attributes
Low radiation exposure
High penetration
Highly mobile
Immediately ready for use
Remotely controllable
Robust
Cost-effective
Safe, intuitive handling
Equipment
Audiovisual alarm
Swivel carrying handle
Integrated tripod mount
Multi-line, backlit Liquid Crystal Display
Two keys
7-pin communication port
Battery (2 pcs.)
Battery charger
Tripod mounting: Tripod mounting plate
Hard case
Remote release cable
Manual german
Optional accessories: collimator filter (trigger avoidance PIR sensor technology)
Optional accessories: tripod
Optional accessories: Radio remote release
Optional accessories: Laser sizing device (enables exact alignment of the beam path)
Note
The use of the X-ray pulse generator is subject to the Radiation Protection Ordinance (StrlSchV).
The device may only be used by qualified personnel who have been instructed in its use.
This product is available from ELP GmbH in the following countries:
Germany, Austria, Luxembourg, Belgium, Netherlands, Switzerland
Your contact person is there for you
Do you have any questions, requests or suggestions?
Jörg Marxen
Beratung Anwendungstechnik EOD/IEDD